We design and build trails in Environmentally sensitive communities constantly with Local and StateGovernment and use our on-ground experience of over 20 years to place the most affordable and sustainableproduct for our clients and their communities to suit their own unique environments. To support this, we host Volunteer Programs to allow the local community to be involved and create ownership of the created trails.
Trail Design & Construction
We create trails that go beyond IMBA compliance. From design conception, through to construction, we handle the necessary details to build trails you can use
Trail Audits
We conduct audits of existing illegal and legal trails to assist the land manager(s) in reporting on the feasibility of future works and sustainable nature of the trails
Trail Maintenence
Trail Maintenance Maintenance planning and delivery of site specific needs for each network, considering their usage and weather patterns
Our Process
Our unique approach to the rapidly growing and evolving sport of Mountain Biking in Australia is founded on the principles of sustainability, quality, and user experience.
From walking a potential site and visualising trail corridors, through rigorous detailed design and approvals processes, to high quality hand and machine construction, Synergy Trails are focused on delivering and maintaining Australia's best quality trail networks.
Our riders and walkers (at all levels from novice to expert) are challenged and excited by our work, and our clients gain a valuable long term commercial and social asset.
---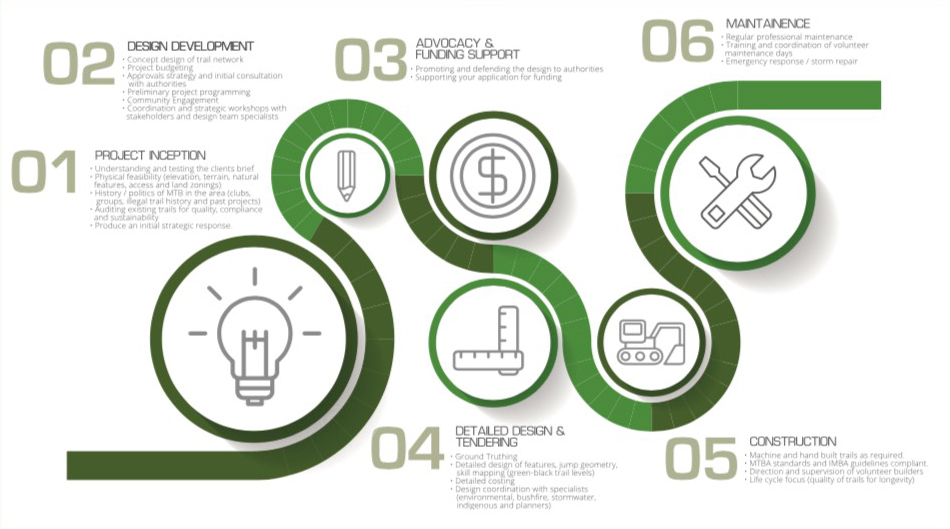 ---